Nghiên cứu hiệu quả gia cường kháng uốn cho dầm bê tông cốt thép bằng vật liệu tấm sợi cácbon, Phần 1; Phần 2; Phần 3; Phần 4
TS. Nguyễn Trung Hiếu


Phân tích ứng xử của bản bê tông cốt sợi thép tính năng siêu cao, download
TS. Trần Bá Việt, TS. Lê Minh Long, ThS. Nguyễn Trung Hòa


Tính toán ổn định phi tuyến hình học kết cấu dàn vòm phẳng tĩnh định trong và siêu tĩnh ngoài, download
ThS. Phạm Văn Đạt


Nghiên cứu sự phá hoại của vật liệu Composites dạng sợi bằng phương pháp phân tích ảnh chụp cắt lớp, Phần 1; Phần 2; Phần 3; Phần 4; Phần 5
ThS. Nguyễn Xuân Đại, KS. Trần Văn Cương


Vữa đóng rắn nhanh sửa chữa công trình sử dụng chất kết dính manhêzi phốtphát, tro bay và cát, Phần 1 và Phần 2
TS. Nguyễn Khánh Sơn, KS. Nguyễn Hoàng, KS. Nguyễn Thanh Nhân, KS. Nguyễn Ngọc Trí Huỳnh


Xác định giới hạn sử dụng hệ tọa độ địa diện chân trời địa phương trong trắc địa công trình, download
PGS. TS. Đặng Nam Chinh, TS Lê Văn Hùng


Cọc ván cừ bê tông cốt thép dự ứng lực, khả năng ứng dụng vào công trình kè trên nền đất yếu, download
TS. Nguyễn Bảo Việt


Tính toán cột chống tạm tại vị trí liên kết với cọc khoan nhồi trong thiết kế biện pháp thi công tầng hầm, download
TS. Hồ Ngọc Khoa, KS. Phạm Quang Cường


Về vấn đề kiểm tra đánh giá các buồng thang bộ được bảo vệ chống khói bằng tăng áp, download
ThS. Hoàng Anh Giang


Tính xoắn dầm thép chữ H bằng biểu đồ theo quy phạm Mỹ AISC, download
PGS. TS. Vũ Quốc Anh, ThS. Vũ Quang Duẩn


ABSTRACT
Experimental study on bending strength of reinforced concrete beams using carbon fiber reinforced polymer sheets (pp. 3-9)
Dr. NGUYEN TRUNG HIEU
This paper presents an experimental study on bending capacity of reinforced concrete beams strengthened with carbon fiber reinforced polymer (CFRP) sheets. Three identical beams were cast and two of them were strengthened by different areas of CFRP sheets. The results obtained from this research clarified the flexural behavior of beams strengthened by CFRP and the strengthening effectiveness for bending capacity of reinforced concrete beam using this material.
Analysis of the behavior of ultra-high performance fiber reinforced concrete slab (pp.10-17)
Dr. TRAN BA VIET, Dr. LE MINH LONG, MEng. NGUYEN TRUNG HOA
The ultra-high performance fiber reinforced concrete is a material which is highly evaluated by its utility. This paper presents the results of experiments on the ultra-high performance fiber reinforced concrete slabs. The monitoring and analysis focus on: the load-deflection relation; load-deformation relation and the crack propagation of the ultra-high performance fiber reinforced concrete slab, in order to use in production of deck for hanging bridges.
Nonlinear geometric stability analysis of statically internal determinate and statically external indeterminate 2D arch-truss system (pp.18-22)
MEng. PHAM VAN DAT
This paper presents a stability analysis method for 2D geometrically non-linear trusses based on Gaussian principle. The result of this analysis is compared with the result of linear analysis in order to evaluate the effect of geometrical non-linearity to the critical load.
Reseach on failure of ceramic matrix composites by tomography analysis method (pp.23-31)
MEng. NGUYEN XUAN DAI, Eng. TRAN VAN CUONG
Research on the behavior of material in microscopic is important in the science of material, especially for composite materials. Tomography method is popular in researchs and analyses of the structure of material due to its capacity to observe the internal structure of material specimen. This paper present the study on the application of tomography analysis method to reconstruct the 3D model of the specimen, to observe the structural changes in the structure of material for studying the mechanism of destruction ceramic fiber composite under axial tension.
Rapid-setting repair mortar from magneisum phosphate binder, fly ash and coarse sand (pp.32-38)
Dr. NGUYEN KHANH SON, Eng. NGUYEN HOANG, Eng. NGUYEN THANH NHAN, Eng. NGUYEN NGOC TRI HUYNH
The main objective is to study a rapid-setting mortar for cement/concrete from magnesium phosphate binder (MPB), grade <30Mpa for fast repairing of partially deteriorated structures. This new product consists mainly of highly crystallized components such as struvite and schertelite types and therefore shows quick setting-time, high strength, durability, neutral pH. In the course of this study, different formulations between binder matrix and appropriate fillers (fly ash, coarse sand) are investigated. It is necessary to control the formulating process of component materials and rheological properties of paste for specific placing method of spraying mortar. Physio-mechanical characterization was analyzed on material from early age state as paste to later age state as fully hardening mortar. Reaction kinetic of acid-base reaction is well-controlled by using retarder borax 2.5% by mass of solid. The results of resistance and both material composition and microstructure are in good accordance with repairing material of cement on 4-point bending test of cross-sample ½OPC-½MPB. We discuss on these relevant results for pratical application on construction site.
Determination of the limits when using of local geodetic coordinate system for engineering surveying (pp.39-43)
A/Prof. Dr. DANG NAM CHINH, Dr. LE VAN HUNG
In order to use the local topocentric coordinate system x, y, z (or N, E, U) appropriately,, the deformation range of length and horizontal angular (angle) represented from the ellipsoid on the horizontal plane of the local topocentric coordinate system should be examined. This paper presents the method for determination of the available range of the local topocentric system for geodetic surveying engineering work and proposes the formula for calculation of the horizontal angular deformity correction.
Applicability of prestressed concrete sheet pile to revetment walls on soft soil (pp. 44-51)
Dr. NGUYEN BAO VIET
This paper presents a study on the applicability of prestressed concrete sheet pile wall of revetment walls on soft soil. Analyses are carried out for the revetment wall of Tra Noc river in CanTho city with the typical soft soil of Mekong delta area. This study proposes 3 approaches of using PC sheet pile wall as 1) No improvement or reinforcement 2) Wall reinforced by anchors 3) Soil improvement by preloading. The inclinations of river-bed and length of the sheet pile walls are two studied parameters. The analysis results show that the total displacement is greater than 60 cm, however the displacement of top of the wall in case of anchoring is pretty small. In all analysis cases, the structures are satisfied in conditions of stability with the high safety factor of over 1.7 and flexure moment with high strength of crack bending moment of the sheet pile. The study also indicates that revetment wall using the PC sheet pile with proper analysis and design could reduce the costs up to 60% compared with the conventional structures.
On the problem of monitoring and assessment of pressurized staircases for smoke prevention (pp.52-57)
Dr. HO NGOC KHOA, Eng. PHAM QUANG CUONG
This paper introduces the types of stairs and staircases those are prescribed in Fire code of Vietnam QCVN 06:2010/BXD, in which overpressure staircases are more concerned. Pressurization methods applied for staircase (or stairwells) and the provisions of testing and commissioning the whole system that are revealed in the referenced oversea standards are regarded briefly as well. At the end, the paper regards conclusions and some recommendations and provisions, related to smoke control for means of egress in general and pressurized stairwells in particular, should be supplemented to Vietnamese norms.
Torsional calculation of H steel beam by using graph according to AISC standard (pp.58-66)
MEng. HOANG ANH GIANG
This paper presents the torsional calculation method of H section steel beams by using graph according to AISC standard. This graph was created on the basis of restrained torsional theory. The graph calculation without using dedicated software is very convenient for the structural design engineer. The procedure of graph calculation is illustrated by an example.
The calculation of kingpost at the connection of bored pile in designing basement construction (pp.67-73)
A/Prof. Dr. VU QUOC ANH, MEng. VU QUANG DUAN
This paper presents basic principles of designing kingpost at the connection of bored pile in basement construction by Top-down method : according to the adhesive force in case of no shear studs and using BS 5950-1990 and Eurocode 4 with shear studs. The calculation results in designing kingpost with technical - technological specifications such as building scale, pile size, installation kingpost, requirement of construction equipment and technology are basis for selecting basement constrution method to ensure safe, stable and economic efficient.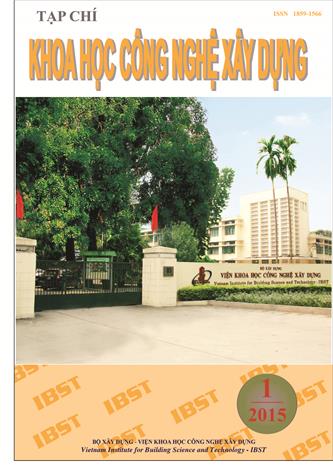 Link bài: http://ibst.vn/tin-tuc/tp-chi-khoa-hc-cong-ngh-xay-dng/tap-chi-khoa-hoc-cong-nghe-xay-dung-so-1-2015-4519.html
Nguồn: http://ibst.vn